How to make your lips irresistible? It is not difficult. It is enough to emphasise its best features: shape, shade, and soft surface. There is one Gosh product 'Kiss Me' Lip Balms that will do it all. The Lip Balm does not have a traditional case but it is a thick twist up pencil. It moisturises like a lip balm, adds a tint of colour like a lipstick, and shines like the best lip-gloss.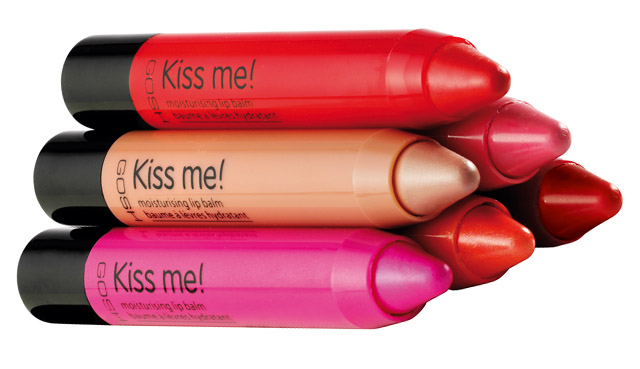 What is so great about this product, is the fact that it is both scent and paraben- free, which makes a perfect choice for all mums-to-be and for small girls who just want to play with make-up. If you don't like strong fragrance on your lips it is worth purchasing.
There are 6 shades: nude 'Innocent Kiss', light pink 'First Kiss', orange 'Flirty Kiss', bright pink Sweet Kiss', deep red 'Irresistible Kiss' and red hot 'Hot Kiss'. The choice is wide and everybody will be pleased to find something that will suit everybody. They are much more pigmented that the lip balms we already know.
Summer is the best time to wear one of 'the Kiss Me' Lip Balms when you want to have your lips hydrated and you do not want to resign from bright colour. Gosh surprised us with the unique ingredient of the product- phytosqualane, which is one of the skin components and it was extracted form Olive Oil. It makes your lips protected and provides better skin barrier.
There is no downside to this lip balm. It is affordable, eco- friendly and portable. Most women decide to try it once will fell in love with the 'Kiss Me' Lip Balm. There is simply no other possibility.