What is the most 'trendy' look this summer? This is fairly easy question. Obviously, bright, vibrant colours on your lips. Choose the shade, put it on and you are ready to hit the party. No eye makeup needed, no blush or highlighter. Even if you wear boring shirt and a worn off pair of jeans, vivid lips will live up the whole look. We are flooded with the choice of different lipsticks. Maybelline follows the trend and has recently introduced a new 'Vivids' Lipstick. We have 10 Super Saturated shades to choose from. Anything between Purple Brazen Berry to light Pink Pop. The price varies between 5-7 GBP, which seems pretty reasonable for a Maybelline lip product.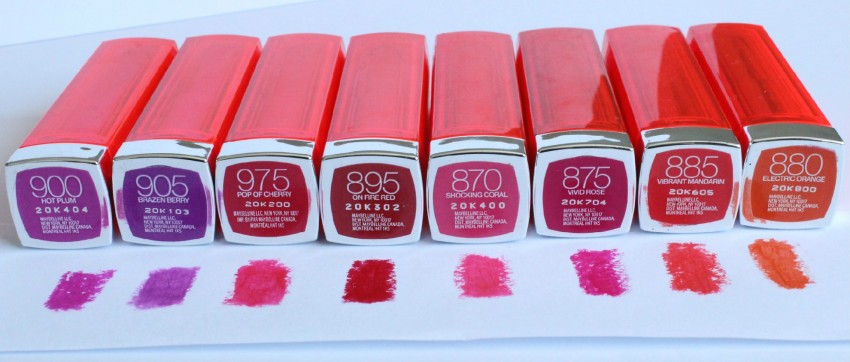 The lipstick is housed in a silver, metallic case with the neon red, plastic lid. The consistency is very soft and thanks to the nectar formula it nourishes lips very well. The colour is distributed evenly and it can be built up. None of them is matte or frosty. The 'Vivids' Lipstick are all shiny and glossy and there is no need to wear a lip-gloss on top of them. Each lipstick is rich pigmented and only one swatch is enough to make your lips looking amazing. If you dare for a bold look, just put two layers of the lipstick. The scent is nice and subtle.
'Vivids' Lipstick has three major Pluses:
Each colour is amazing and it suits for most of the skin types.
The lipstick is long- lasting. It stays on without creasing for a good, few hours. You can drink, laugh, or kiss without worrying that the colour will fade or that you will consume it along with your lunch salad.
The last, and for many the most important advantage of using the Vivid Lipstick is that it hydrates your lips and it makes them velvety soft.
Even if your skin is already dry and chapped, this lipstick will work like the best lip balm. The Vivids lipstick is such a great product that many of us cannot limit ourselves to just one from the series.