Young and healthy looking skin is achievable at any age. All it takes is to use the right beauty product, put the make-up on and Voila! Apart from good foundation, natural looking blush is what make us 5 years younger. Natural looking flush equals innocence and youthfulness.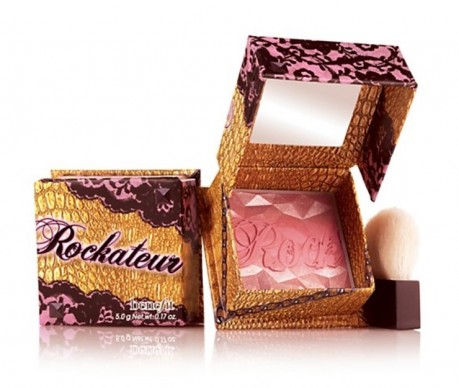 One of the best blushes on the market is 'the Rockateur' by Benefit. It has been released a few months back but it is almost impossible to get it in any beauty shop. This Benefit product has been so raved about, that already has many dupes. To get the authentic 'Rockateur' blush order it on the official Benefit website only.
The package looks like a cute casket made of hardboard. It seems quite big, but unfortunately, it contains only 5g of product. It is quite disappointing that there is not a lot for the price you need to pay for it.
Once you open the lid, you will see a compact mirror and a handy brush that allow for a touch up during the day. The nice rosey-gold colour of the product is truly amazing. It livens up the whole face with provocative flush. The colour is rich-pigmented and it can be built up for a bolder, night look. If your skin is tanned, you can apply two layers of the product to make your cheeks more defined. There is a tiny bit of shimmer in it, which makes your skin glows in the sun. The smell is very pleasant and it fades quickly.
This long lasting blush will stay in place for at least six hrs. without drying out your skin. Those who are afraid to use blushes due to the pale skin tone you should definitely try the 'Rockateur' as it creates a lovely, natural flush of colour that will flatter anyone. To get the summer kiss look combine the blush with the Benefit matte Laguna bronzer.