There is this obvious love-hate relationship between Maybelline and its customers when it comes to mascaras. Each time when this company releases mascara, we never know if this is going to another dud or this season's bestseller. There is no wonder that when the 'Mega Plush Volum' Express' was introduced, there was a lot of speculation about it. Let's start from positives.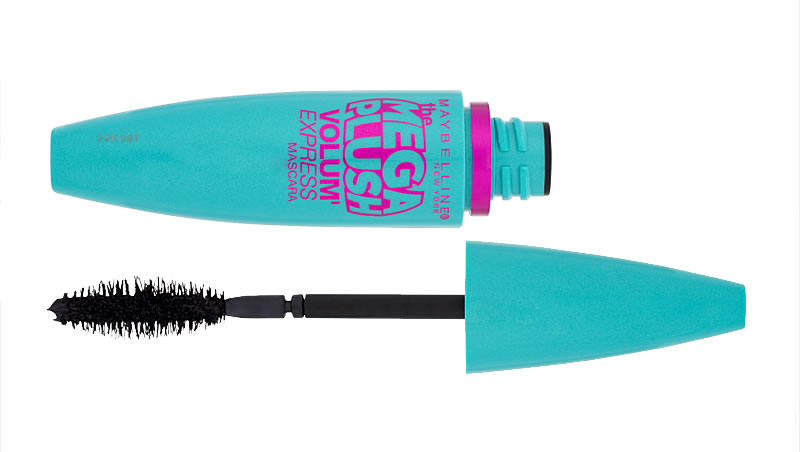 It has a nice, rounded shape resembling the previous Maybelline mascaras and it is easy to hold. The tube is in vivid, turquoise colour .The innovative, patented by Maybelline flexi brush makes eye make-up very easy. It may take a few tries to get used to, but once you get the hang of it, it will give you amazing results . It does not smudge, clump, it stays on all day, and does not transfer to your under-eye area . Mascara bristle makes your lashes fanned out and beautifully volumised. There a decent amount of 9ml of the product and it has a nice, delicate fragrance. Surprisingly the gel-mousse formula is easy for application and it distributes evenly. It covers lashes well , extending them and separating at the same time. To get a natural look, only one coat will be enough, but you can also build it up ,depending on your preference. Thanks to the unique formula, even with a heavy build-up your lashes will stay soft and they won't dry up.
The downside of 'Mega Plush Volum' Express' is that its brush is large as for the mascara wand. It may extend lashes well but, on the other hand, it makes it very difficult to cover bottom lashes not to mention the inner corner lashes. Another minus is that the mascara finishes quickly. It is usually gone within three month after opening if you use it daily. Those of you who expect a spectacular thickening effect may be disappointed. It makes lashes longer but it, unfortunately, won't make them look thicker.
It seems that this product has been a nice surprise. What's more, the' Mega Plush' proudly stands out from all previous Maybelline mascaras.