Width and color of our eyebrows play a huge role in shaping our face and giving it more definition. How many times did you spot a fair-haired girl with exaggerated, black brows. It instantly creates unbalance and chaos on the face. Unnaturally thin brow line can create similar, cartoonish look. This strategic part of the face cannot be neglected and it should be treated with special care. That's why Clinique has created "Instant Lift for Brows" pencil. With its help , we can have a very natural looking eyebrows.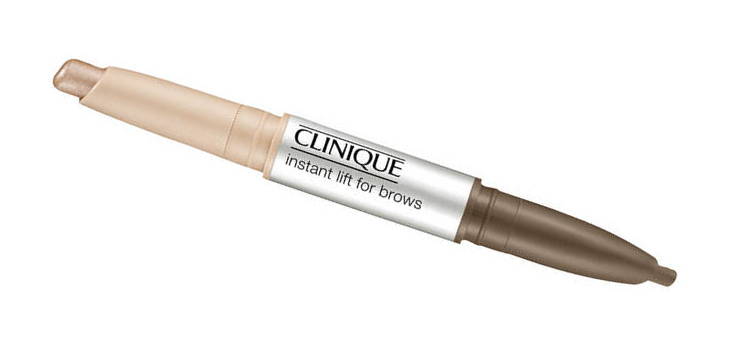 The pencil has two ends. On one end. we can find an automatic, twist up pointing pencil that shapes and fill in brows. On the other end, there is a pear highlighter which, if applied on the brow bone or under the outer side of brows, gives the face virtual lift. The highlighter creates a contrast between dark brown line and the brow bone making the face look younger.
The product is available in three colours: soft blonde, soft brown and deep dark. Even if you are a very light blonde you will find the right shade for you. No more harsh. dark grotesque lines.
This Clingue product is the essential make up tool if you want to spend your holidays in tropics. It stays on even in the hot, humid weather, yet look natural in the full sun. Who would resist an instant face lift. Applying the highlighter above the brows is a makeup artists' trick that will make your face look fresh. Now, you do not need to carry two separate beauty product as they all come in one handy pencil. It is also great that that there is no sharpener needed. This way we avoid product wastage.
How to use the 'Instant Lift for Brows'
First, use the dark pencil to draw the braw line and to fill it up with short hair-like strokes. Start with a light touch to get the natural look, and then build the colour up to get the shade you want.
Once the brows are done, apply the highlighter on the brow bone all the way to the temples and blend it out softly. To 'lift' your eyes apply a tiny bit of the highlighter above brows the outer side. This will make your eyes appear bigger.