Rimmel was not discouraged by the recent unfavourable reviews of its products, and it has released a brand new mascara that is supposed to hit the market.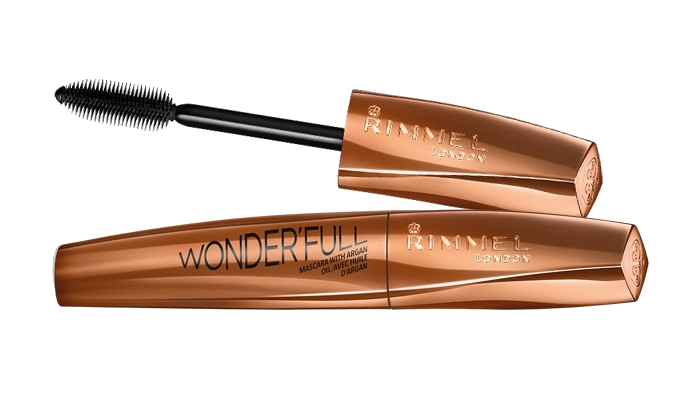 'The Wonder'full' mascara has an innovative formula enriched in Argan Oil. Famous Argan Oil is great for your hair, skin and it tastes amazing in your salad. Rimmel makes use of the oil's moisturizing properties and adds it to the 'The Wonder'full's' formula. The mascara makes our eyelashes not only look amazing but also it conditions them to grow faster and thicker.
Since November 2013, the product has been available good drug stores all over the country. It comes in an 11 ml tube that cost only $10.
The packaging itself looks classy and stylish. The case is in a golden- brown colour and it has irregular shape, which makes it easy to hold. If you would like to open or close the product, you will hear characteristic 'click' sound. It is very convenient way to ensure you that the mascara has been properly closed and no harmful air is getting into it.
The brush has a traditional, oval shape and it is made of silicone. It glides smoothly distributing the right amount of product without leaving clumps. It separates eyelashes making them looking long and curled, yet still natural. Additionally, it dries quickly which prevents the lashes from sticking together. Even when applied a few coats the mascara does not flake off and is feels light. It is a big change for Rimmel, as most of the previous mascaras gave the feeling of heaviness and smudged after a few hours.
Conditioning our lashes and making them look fabulous is a huge breakthrough in the beauty industry. 'The Wonder'full' mascara is the absolute Must this season.