Smokey Eye is one of the few looks that is always in fashion. We are never tired of it and it looks good on anybody. Droopy eyelids, small eyes – it all can be corrected with this amazing eye make-up. It gives our gaze a mystery and it flatters any woman. Smokey eyes can range from dramatic black to neutral ones, it all depends on the person and occasion. We can wear it in our office job and it would be great for a date with your love. Perfecting the dim look is not as easy as it seems, that why Bourjois has introduced a new the 'Smoky Eyes – Trio Eyeshadow' 'that is supposed to make our life easier.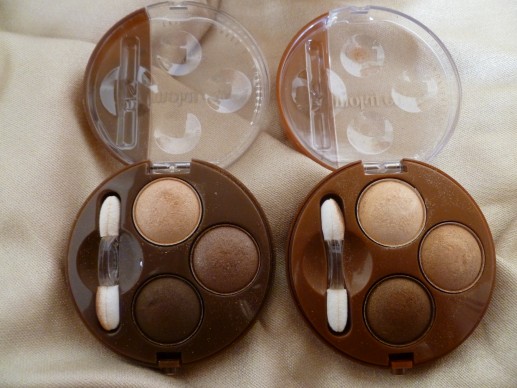 Bourjois has indulged us with the wide range of colours with which help we can easily create a seductive look. You can choose from 10 combinations of three different shades. You can go for browns, greens, or dark black. The choice is pretty unlimited. At the back of the package, we can find a step by step manual of how to apply each shade. Additionally, in the nice, compact case there is a small double-tipped applicator. Due to the short length of the wand, the application causes problems. It is better to use your own, standard eye brush for better precision.
The eye make-up is not matte but rather deep and metallic. The consistency is easy to be applied and it blends well. The big downside of this product is that it is poor-pigmented and it is hardly visible after the first application. To get a strong colour two or three layers are required.
The producer says that the shadows are long lasting and they will stay in place for 8 hrs. What's more, if we decide to use an eye premier, we can easily wear the sultry eyes for more than 10 hrs. The 'Smoky Eyes – Trio Eyeshadow' costs around 8GBP for 4,5g. In spite of the fact that shadows blend well, the price is still inadequate to efficiency of the product.