Does a new, undiscovered lipstick colour is possible to be invented? Our lips were already red, pink and nude, shimmering or matte. Is there anything else that can surprise us? The rumour is that the new Rimmel lipstick is different to anything we tried before. The Apocalips Lip Lacquer has a lot of press recently and everybody talks about it. It is supposed to be the new version of old shades with glossy finish. Is a 6 GBP lipstick able to fulfil all these promises?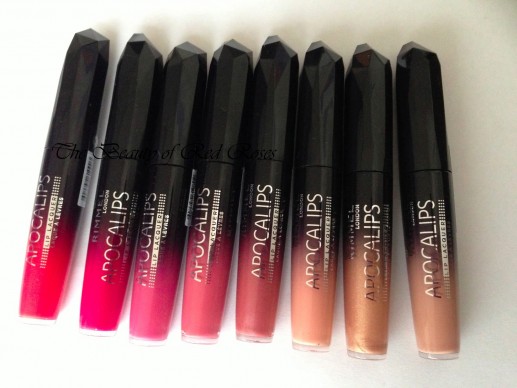 The product is housed in an elegant, ombre case with the black lid. The bottom of the packaging is in the same colour as the actual lipstick so you get an accurate representation of the product by just looking at the case. The packaging is truly a brilliant idea and it makes you find the right lipstick in your beauty bag in a matter of seconds. You can choose from 13 different shades of brown, pink and red, purple and anything in beetween. The colour range is satisfactory, however not as rich as expected.
The lipstick looks like a standard gloss with a sponge wand. The applicator has a little scope on one side. It holds a lot more product so you do not have keep dipping the wand into the case. One dip is enough to cover all your lips. The consistency is liquid- creamy. Immediately after the application, we can feel how our lips are moisturized and soft.
The texture is not sticky and it glides easily. The scent is slight and it after a few second diminishes. Apocalips Lip Lacquer is a liquid lipstick with full colour coverage yet feeling lightweight. The colour of each lipstick is extremely rich- pigmented and it stays on for 4-5 hours without the need to touch it up. Rimmel says that they are not transfer proof so it will not be the best choice for a beach barbecue.
The Aplocalips Lipstic is one of the greatest hit on the beauty market. They are valued for great colours and shine they add to lips. Definitely worth recommending.